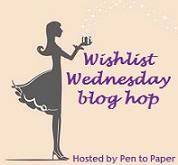 Wishlist Wednesday
is a book blog hop where we will post about one book per week that has been on our wishlist for some time, or just added (it's entirely up to you), that we can't wait to get off the wishlist and onto our wonderful shelves.
This blog meme is hosted by
Pen to Paper
, if you want to join please visit
here
to find more about this meme.
Foretold
by
Richelle Mead, Carrie Ryan (Editor), Simone Elkeles, Meg Cabot, Heather Brewer, Saundra Mitchell, Diana Peterfreund, Laini Taylor, Margaret Stohl, Matt de la Pena, Kami Garcia, Malinda Lo, Lisa McMann, Michael Grant
Summary from Goodreads :
Have you ever been tempted to look into the future? To challenge predictions? To question fate?

It's human nature to wonder about life's twists and turns. But is the future already written—or do you have the power to alter it?

From fantastical prophecies to predictions of how the future will transpire, Foretold is a collection of stories about our universal fascination with life's unknowns and of what is yet to come as interpreted by 14 of young adult fiction's brightest stars.
I found this anthology at previous WoW from one blog I follow and I totally captivated because, look, 14 stories from 14 wonderful authors that most of them are my favorite! I was like found a heaven in a small cover picture! 8D
I'm not exactly sure, but Goodreads stated that Rose and Dimitri from VA will be appeared there, one thing that makes me squee-ing silently and already impatient to get this book. SQUEEEEEE!!!
I have very high expectation upon Foretold and I hope it would really meet once I got it.
Anyone already added Foretold in their Wishlist?
What do you think about it? =)