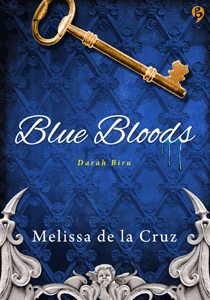 Blue Blood
(Book #1)
Author : Melissa de la Cruz
Publisher : GAGAS Media (Indonesia)
Page : 368
Source : Bought
Blurb from
melissa-delacruz.com
:
Within New York City's most elite families, there lurks a secret society of celebrated Americans whose ancestors sailed on the Mayflower. They are the powerful and the wealthy—and in fact, they are not human. They are the Blue Bloods, an ancient group of vampires.
Schuyler Van Alen has never fit in at Duchesne, her prestigious New York City private school. She prefers baggy, vintage clothes instead of the Prada and pearls worn by her classmates, and she lives with her reclusive grandmother in a dilapidated mansion. Schuyler is a loner and happy that way.
But when she turns fifteen, Schuyler's life changes dramatically. She has a mosaic of blue veins on her arms, and craves raw meat. The death of a popular girl from Duchesne is surrounded by a mystery that haunts her. And strangest off all, Jack Force, the most popular boy in school, is showing a sudden interest in her.
Schuyler wants to find out the secrets the Blue Bloods are keeping. But is she herself in danger?
Steeped in vampire lore and set against the glittery backdrop of New York City, Blue Bloods will be devoured by fans of Melissa de la Cruz.
I was expecting a good read when i saw this book, with pretty blue cover, 'New York International Best Seller' statement, and thrilling blurb. But after i finished the book, I have to say I'm not really a fan of this book =(
I'm a bit confuse right now how to review it without being 'harsh' (lol) but i'll try.
The idea of the story is awesome actually and i like the idea to make noble-rich-fashionable vamps. But somehow I feel something was lack, the story was jumbling and confusing.
The author emphasized high society lifestyle more than the vampire side itself and that bothered me. Beside fashion related glossarium I got from here (which was pretty good and i enjoyed it, ha!), Blue Bloods teenagers do a lot of parties here and there, clubbing, teens were smoking and drinking at their 15-16 years old boys and girls. It's like 'Gossip Girl', with vampire label in them.
Vampire matter really came out after more than half book, when Cordelia told Schuyler about Silver Blood and that also answered my own question about diary parts that attached between each chapter, after a long read 0_0.
The main character should be Schuyler, but Cruz changed POV in each chapter, mostly from Schuyler, Mimi, and Bliss, and small portion of Jack, and it just a paragraph inserted in other POV. Okay that method can help us to know more about characters but for me, It made Schuyler identity as main character a bit vague, because for me Mimi and Bliss POV were stronger and more interesting than Schuyler.
The love story between characters just like a short make-up term, blood-donor boy/girlfriend, almost incest relationship. I'm a sucker of
true
love story, so this is a bit dissapointed me. I just keep this positive thinking to make me continue this series and assume as a first book, Cruz didn't reveal much of love stories, especially between Schuyler and Jack.
I give 2,5 star for this book, and yet, still waiting to read the rest of books. Just hope Masquerade will be more better.
Duh, did i write too harsh? xD