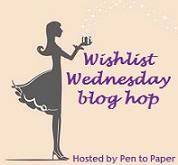 Wishlist Wednesday
is a book blog hop where we will post about one book per week that has been on our wishlist for some tile, or just added (it's entirely up to you), that we can't wait to get off the wishlist and onto our wonderful shelves.
This blog meme is hosted by
Pen to Paper
, if you want to join please visit
here
to find more about this meme.
Allegiant
by Veronica Roth
Summary from Goodreads :
What if your whole world was a lie?
What if a single revelation—like a single choice—changed everything?
What if love and loyalty made you do things you never expected?

The explosive conclusion to Veronica Roth's #1 New York Times bestselling Divergent trilogy reveals the secrets of the dystopian world that has captivated millions of readers in Divergent and Insurgent.
OF COURSE I CAN'T WAIT TO READ ALLEGIANT! =DDDD
I already could not wait to read
Allegiant
after I finished with
Insurgent
. I'm really happy with the gorgeous cover (btw, I'm really curious with the wave instead of any symbol, does it mean anything?), the gorgeous title and expecting the great conclusion as well!
What's you WW this week? Are you already excited to read Allegiant like me? =)