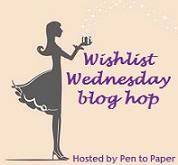 Wishlist Wednesday
is a book blog hop where we will post about one book per week that has been on our wishlist for some tile, or just added (it's entirely up to you), that we can't wait to get off the wishlist and onto our wonderful shelves.
This blog meme is hosted by
Pen to Paper
, if you want to join please visit
here
to find more about this meme.
Sweet Peril
by Wendy Higgins
Summary from Goodreads :
Anna Whitt, the daughter of a guardian angel and a demon, promised herself she'd never do the work of her father—polluting souls. She'd been naive to make such a vow. She'd been naive about a lot of things.

Haunted by demon whisperers, Anna does whatever she can to survive, even if it means embracing her dark side and earning an unwanted reputation as her school's party girl. Her life has never looked more bleak. And all the while there's Kaidan Rowe, son of the Duke of Lust, plaguing her heart and mind.

When an unexpected lost message from the angels surfaces, Anna finds herself traveling the globe with Kopano, son of Wrath, in an attempt to gain support of fellow Nephilim and give them hope for the first time. It soon becomes clear that whatever freedoms Anna and the rest of the Neph are hoping to win will not be gained without a fight. Until then, Anna and Kaidan must put aside the issues between them, overcome the steamiest of temptations yet, and face the ultimate question: is loving someone worth risking their life?
OMG I really LOVED
Sweet Evil
, I never thought I'd love it so much but I do =D I love the characters, the chemistry between Anna and Kaidan, and the relationship between Anna and other people around her like with Patty, her dad and other nephs, it's so awesome and well-built. Probably
Sweet Evil
is the best paranormal romance for me this year and I absolutely cannot wait for
Sweet Peril
! I can not wait to see what would happen to Anna, Kaidan and the rest of the characters. I think everything would be intensified here. So exciting!
So what's your Wishlist Wednesday? Share yours so I can check them back =)