MINI INTRODUCTION:
From now on I'll add 'Mini Review' which contain short reviews of several books I've read long ago but still haven't made reviews of them. I have busy and procrastinator life so yeah I think this feature is necessary for this blog of mine =)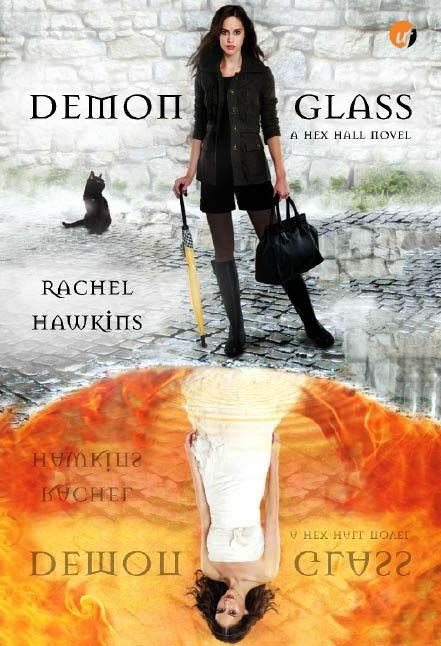 Demonglass
Author : Rachel Hawkins
Publisher :
U.S : Hyperion Book CH
Indonesia : UFUK Publishing (paperback)
Source : Bought Indonesia version
Pages : 449
Rating : 4 glasses
Review
:
Like Hex Hall, I enjoyed this book very much. Sophie's voice is as crazily funny, entertaining and sarcastic as before, one factor that can make me falling for a story very easily. I love how the story is nicely developed here, with Sophie's journey and her encounter with new people, including her father (btw, I like him, what a cool father =p), with unexpected identity and facts, things getting darker and more complicated about who's the real good people and who's the real bad people. It's really shocking and gosh, what an ending! It makes me really want to get Spellbound right away! ><; One thing I like in this series is that the love story somehow doesn't really dominate the whole story, instead it focuses more about Sophie's adventure finding the truth about her identity and the other things. But I can't deny that I also want to know how Hawkins will do about love triangle between Sophie-Archer-Cal at the final book. Secretly I ship Sophie and Cal more because I feel I know about Cal more than Archer. Archer is still a blurry image even after I read two books. Well, just patiently wait until I get a chance purchasing Spellbound one day =p.
Silence
Author : Becca Fitzpatrick
Publisher :
U.S : Simon and Schuster
Indonesia : UFUK Publishing (paperback)
Source : Bought Indonesia version
Pages : 592
Rating : 3.5 glasses
Review
:
Thankfully my curiosity won over my soul and I didn't drop this series earlier, because somehow for some reason I couldn't really get into the story, mostly getting confused here and there and I got a hard time with the previous book,
Crescendo
. That book was just really frustrating for me and made me disliking almost everything (read : Nora), even Patch. Well, I never really liked him though, somehow he's not really stand out among other book boyfriends out there and especially I just couldn't understand his strange behavior. But I was glad I was still willing to read this book.
Everything seems getting better, somehow Nora is like being 'renewed', she's like other person comparing to her in previous book, probably amnesia is good for her, lol. She's maturer and willing to take a risk and surprising responsibility that appears at the twisted end of the story. Wow, truthfully I've never seen it coming, quite surprised me!
And I was more surprised because this series has the forth book. Well, just hope this series would have satisfying ending.
The Reckoning (The Darkest Power #3)
Author : Kelley Armstrong
Publisher :
U.S : HarperCollins
Indonesia : UFUK Publishing
Source : Bought Indonesia version
Pages : 366 (Paperback)
Rating : 4 glasses
Review
:
I've never expected I would enjoy this series very much! It's getting better and better on each volume and
The Reckoning
probably is the best sequel of all. What a pleasant ending! Though most of the story of all three books is about Chloe's and her friend's attempt to runaway from an evil organization (means lack of action, actually), it's still very exciting to read, especially when their power are revealed one by one (Chloe's is the scariest, with those zombies with any unbelievable form, seriously can't read this at night!). I loved to see how Chloe becomes maturer in here. She's no longer a spoiled whiny girl and finally she can accept her destiny and her power and also willing to control it. I also love to see the relationship development between Chloe and her friends, especially with Derek. Awww, they're just really sweet together! Their relationship grows naturally, because they want to protect each other. Just sweet! I always enjoyed every parts where both of them involved in and I was beyond satisfied with the ending =D. Such a wonderful series!