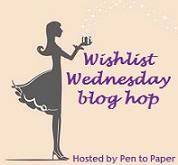 Wishlist Wednesday
is a book blog hop where we will post about one book per week that has been on our wishlist for some time, or just added (it's entirely up to you), that we can't wait to get off the wishlist and onto our wonderful shelves.
This blog meme is hosted by
Pen to Paper
, if you want to join please visit
here
to find more about this meme.
The Indigo Spell
by Richelle Mead
Expectation release date : February, 2012
In the aftermath of a forbidden moment that rocked Sydney to her core, she finds herself struggling to draw the line between her Alchemist teachings and what her heart is urging her to do. Then she meets alluring, rebellious Marcus Finch--a former Alchemist who escaped against all odds, and is now on the run. Marcus wants to teach Sydney the secrets he claims the Alchemists are hiding from her. But as he pushes her to rebel against the people who raised her, Sydney finds that breaking free is harder than she thought. There is an old and mysterious magic rooted deeply within her. And as she searches for an evil magic user targeting powerful young witches, she realizes that her only hope is to embrace her magical blood--or else she might be next.


Populated with new faces as well as familiar ones, the Bloodlines series explores all the friendship, romance, battles, and betrayals that made the #1 New York Times bestselling Vampire Academy series so addictive—this time in a part-vampire, part-human setting where the stakes are even higher and everyone's out for blood.
I really love Bloodlines series, it's very different from VA but still captivating to know more about Alchemist and their specialities. I've finished
The Golden Lily
and already pre-ordered
The Indigo Spell
. Can't wait to read it. So excited to see Sydney finally realizes her unknown power. And of course this mysterious new guy, Marcus Finch, who's he and what's his role. I also want to read more about her relation development with Adrian. February can't be soon enough!
Anyone already read
Bloodlines
and
The Golden Lily
? What do you think about them? Like or not?
What's your Wishlist Wednesday this week? =)