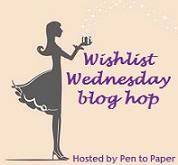 Wishlist Wednesday
is a book blog hop where we will post about one book per week that has been on our wishlist for some time, or just added (it's entirely up to you), that we can't wait to get off the wishlist and onto our wonderful shelves.
This blog meme is hosted by
Pen to Paper
, if you want to join please visit
here
to find more about this meme.
The Fault in Our Stars
by
John Green
Summary from Goodreads :
Diagnosed with Stage IV thyroid cancer at 13, Hazel was prepared to die until, at 14, a medical miracle shrunk the tumours in her lungs... for now.

Two years post-miracle, sixteen-year-old Hazel is post-everything else, too; post-high school, post-friends and post-normalcy. And even though she could live for a long time (whatever that means), Hazel lives tethered to an oxygen tank, the tumours tenuously kept at bay with a constant chemical assault.

Enter Augustus Waters. A match made at cancer kid support group, Augustus is gorgeous, in remission, and shockingly to her, interested in Hazel. Being with Augustus is both an unexpected destination and a long-needed journey, pushing Hazel to re-examine how sickness and health, life and death, will define her and the legacy that everyone leaves behind.
Maybe I'm the only one who haven't read this book *facepalm*. Looks like I won't read any bad things about this book because it has fantastic rating at Goodreads. I still haven't read any John Green book yet but this sounds a very good tear-jerker reads, sometimes I need it =)
I often see this at my local import bookstore but I can't buy it for some reason and that pissed me off ><;;;; I hope I can purchase this awesome book soon =). Anyone already read this book? What do you think about it?