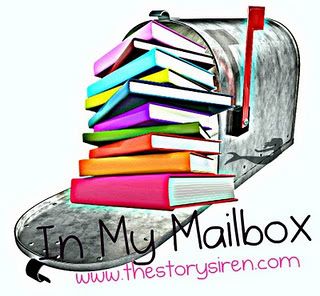 In My Mailbox is a blog meme hosted by Kristi of
The Story Siren
. You can show some books you got over the week which you bought, borrowed or given to you.
Hello guys how are you today? I hope you're all in a good shape ;)
Anyway, here are some new books I got from several past weeks. They're quite huge and...
OOOOH MYYY GOD I LOST CONTROL!
*silently scream frustratingly*. I really could not resist to buy some books while I struggle to save enough money for my trip next year ><;;;;.
Oh well. So here they are :
HARDCOVER
Under The Never Sky by Veronica Rossi
Defiance by C. J. Redwine
From Book Depository, no words can express how I love this online bookstore =)
Actually I already have
UTNS
in International Edition, but when I saw the price-reducing for Hardcover one, unconsciously I was pressing buy and check out button. LOL. I've already eyed
Defiance
since long time ago and glad finally I got the copy! Can't wait to read these books! =D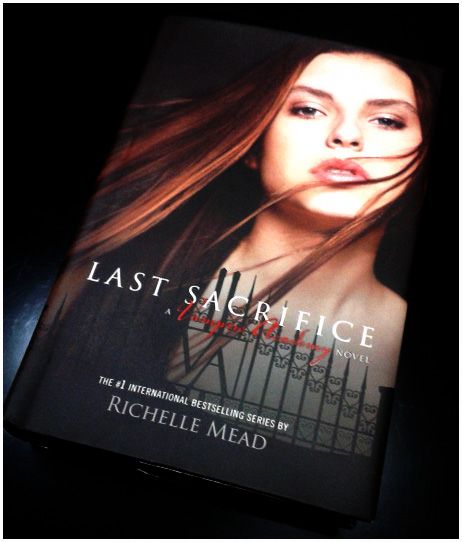 Last Sacrifice by Richelle Mead
*sigh* So basically I lose a patience waiting for the translation version and I don't care anymore if my VA series doesn't have even version. Uhm, not exactly like that though because I saw this pretty hardcover version at sale shelf for only IDR 35k (around $4)! So how I could not buy it?!
PAPERBACK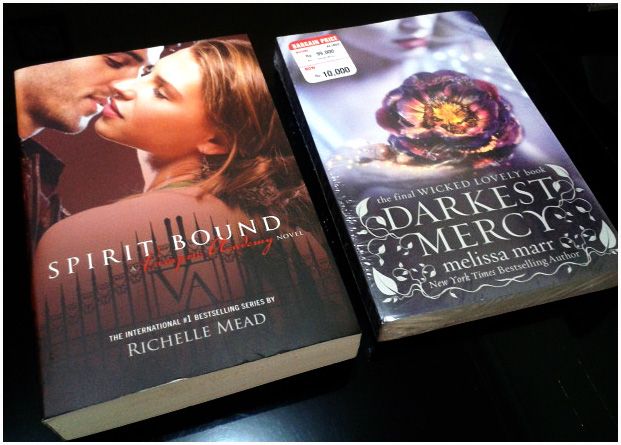 Spirit Bound by Richelle Mead
Darkest Mercy by Melissa Marr
These two I got also from sale shelf at local import bookstore. Strange that
Last Sacrifice
in hardcover was cheaper than
Spirit Bound
in paperback. Ow, I was kind of lucky =p. And for
Darkest Mercy
, you see the price tag, it's only IDR 10k (or around $1)!!! And yep these aren't even with the rest series and it's not a problem anymore =p
INDONESIA VERSION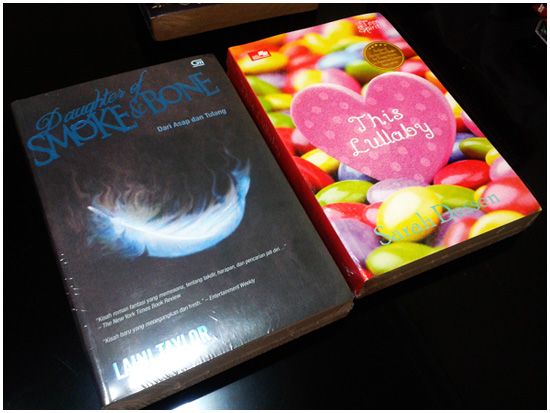 Daughter of Smoke and Bone by Laini Taylor
This Lullaby by Sarah Dessen
I was so startled
Daughter of Smoke and Bone
was going to be published here, and surprisingly with very fascinating and pretty cover! I was looking forward to read this book since people love it very much.
And for
This Lullaby
, I've never read any Sarah Dessen book before and I heard amazing things about her books. Lately I need contemporary reading so I can't wait to read this book! =)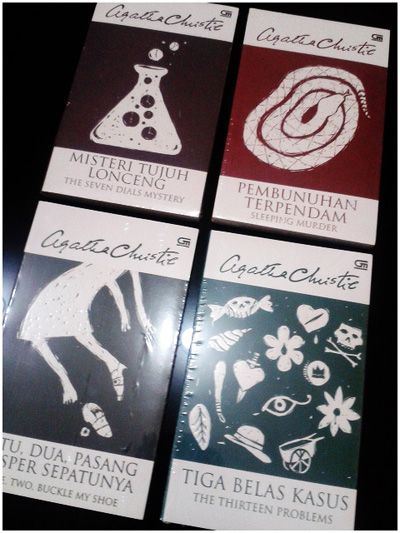 Agatha Christie novels :
The Seven Dials Mystery
Sleeping Murder
One, Two Buckle My Shoe
The Thirteen Problems
Agatha Christie's books are one of best seller books in my country and they already got cover change for four times, these are the fourth and I love this version. They look really artistic and mysterious. I'm a fan of her books as well, especially I read mostly about her famous character, Hercule Poirot. So now I try her another main character, Mrs. Marple and the rest.
If you want to know about her books, I suggest
Big Four
and
And Then There Were None
, because they're my favorite =D
And... things unrelated to bookish-es :
YAY!
Avengers
and
The Hunger Games
DVDs! My country just sells basic version, but that's okay for me.
A lot of books, so little time (
and money, LOL!
)
Here I am babbling again, thanks for spending your time to read them =p
So what do you get last week?
Leave your link so I can check it out and envy yours ;D
Happy reading! =D