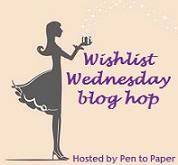 Wishlist Wednesday
is a book blog hop where we will post about one book per week that has been on our wishlist for some time, or just added (it's entirely up to you), that we can't wait to get off the wishlist and onto our wonderful shelves.
This blog meme is hosted by
Pen to Paper
, if you want to join please visit
here
to find more about this meme.
The Evolution of Mara Dyer
by
Michelle Hodkin
Summary from
Goodreads
:
Mara Dyer once believed she could run from her past.

She can't.

She used to think her problems were all in her head.

They aren't.

She couldn't imagine that after everything she's been through, the boy she loves would still be keeping secrets.

She's wrong.

In this gripping sequel to The Unbecoming of Mara Dyer, the truth evolves and choices prove deadly. What will become of Mara Dyer next?
Everyone who already read and love
The Unbecoming of Mara Dyer
probably would agree that this series is really
confusing
. More you read and dive into it, more it confused you and yot also can't beg for answers because Ms. Hodkin let us wanting more and desperate till the end. But what is awesome is that we can't take our eyes of this sexy-dark-creepy story, and yes, WE WANT MOAR!
Right after the cover released (which is, OMG! Absolutely adore it!), I was like counting down the release date day past day. I also sigh in big relief because it has MORE THAN 500 PAGES! *flippin' acrobatic-ly*.
Well, it's still 2 months to go but I already soooooo excited and anxious! Can't wait to read more about the truth of Mara identity (if Ms. Hodkin is being kind enough to give us some) and the sexy Noah *squeeeee!*
Anyone already read the ARC of this book (and i'm soooooo jealous of you guys! TAT)? What do you think about it?
What is your Wishlist Wednesday this week? =)