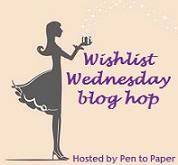 Wishlist Wednesday
is a book blog hop where we will post about one book per week that has been on our wishlist for some time, or just added (it's entirely up to you), that we can't wait to get off the wishlist and onto our wonderful shelves.
This blog meme is hosted by
Pen to Paper
, if you want to join please visit
here
to find more about this meme.
Obsidian by Jennifer L. Armentrout
Publication date: May 15th 2012
Summary from Goodreads :
Starting over sucks.When we moved to West Virginia right before my senior year, I'd pretty much resigned myself to thick accents, dodgy internet access, and a whole lot of boring.... until I spotted my hot neighbor, with his looming height and eerie green eyes. Things were looking up.And then he opened his mouth.Daemon is infuriating. Arrogant. Stab-worthy. We do not get along. At all. But when a stranger attacks me and Daemon literally freezes time with a wave of his hand, well, something...unexpected happens. The hot alien living next door marks me.You heard me. Alien. Turns out Daemon and his sister have a galaxy of enemies wanting to steal their abilities, and Daemon's touch has me lit up like the Vegas Strip. The only way I'm getting out of this alive is by sticking close to Daemon until my alien mojo fades. If I don't kill him first, that is.
Firstly, I've never read any Jennifer Armentrout's books but I've heard LOTS of amazing things about her and her works from twitter and blogs. People adore her books very much, like
Half Blood
and this one from
Lux
series. I've especially eyed
Obsidian
since long ago (bad-hot alien boy and things, definitely catch my attention! =D), but haven't purchase it because, well, I didn't really like the first cover (although the (male) models are freakin hot!) But then someday announced that it would have a new cover, that above, and I think I have to purchase it soon! =D
What's your Wishlist Wednesday this week? Share your link, I'll stop by ^^