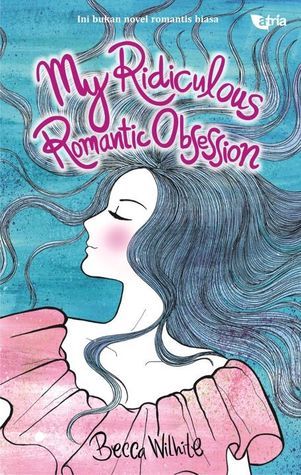 My Ridiculous, Romatic Obsessions
Author : Becca Wilhite
Publisher : Indonesia - Atria
U.S - Shadow Mountain
Source : Bought
Pages : 270
Summary from Goodreads :
Sarah Howard's first year at the university is everything and nothing she expected especially when a very cute boy named Ben in her Art History class starts to show interest in her.

Sarah feels like she's an average, normal, everyday girl. So, when Ben (to whom she secretly refers as Adonis because she thinks he could be a Greek god) begins to take interest in her, Sarah is in denial. For one thing, last year she was deeply crushed and humiliated by Jesse James a guy who she thought liked her.

She's determined not to get burned again. But in her heart of hearts, what she really wants is a Jane Austen kind of romance. Ridiculous, right? That kind of romance doesn t exist anymore . . . or does it? Sarah is smart and fun to be around and even pretty, despite her Medusa-like red curls. She even plays the guitar. (So does Ben!) Yes, Sarah is everything Ben has wanted. He's crazy for her, but Sarah is just not getting it. She's playing hard to get, and if she s not careful, she s going to lose a real hot gentleman -- her 21st-century Mr. Darcy.
This novel was a refreshment after loads of paranormal and dystopia novels I've read. I really enjoyed reading this; fast-reading, heartwarming and sweet like candies =9. The story has a plain and cliche plot, but it's incridibly real and I instantly related to the main character condition very well.
I was very moved with the story and the characters. I could imagine if I stand there as Sarah, our main character here. She has very low self esteem, because her parents unconciously always remind her about how unattractive she is and a bad memory, badly being rejected by a boy she thought liking her, and the reason was her appearance. Those things make her becoming quite a loner and ridiculously obsessed with romance story and it's prince charming, while in reality she sure herself no one like her. However, although she sees negatively upon herself (reading her pitiful voices was a bit tiring and annoying, no matter how real they were), she's a sweet and smart girl, sometimes sarcastic and innocent. I quickly connected to her, knew very well how to feel what she feels and liked her true personality, not pictured as a dashing girl, but a down to earth one, with common girlish problems about insecurities. Thankfully, she also has a real good friend who always help her dealing with her situation.
When a hot guy like Ben shows interest on Sarah, she's really confuse and hesitate whether react the same or not because she's afraid this is a one side feeling. Again, I really understand that feeling, something like "I'm not good enough for him, how come he likes me. He could find someone better". It's annoying, yes, but some girls can't avoid to feel that way. Yeah, I've been getting that feeling too. But I really glad she could ease her insecurities and gain her confidence, thanks to that wonderful Ben.
Sarah and Ben relationship is a type of insta-love but after read more farther, hey, who won't fall in love with him? =D Ben is a veeeeeeeeeeeeeery sweet and kind, a very rare type for hotties these days. I was glad he's not built all round perfect but has a hidden flaw too. More amazing that he doesn't hide it to remain him look perfect and he can deal with it. I loved almost everything about him, his sincerity love toward Sarah, as he could see beneath the surface, and how he can deal with Sarah temporary insecurities and hesitancy. Such a dreamy guy!
Maybe I'm too biased, giving such a high rating for simple teenlit. But this sure delighted me, and I already want to read it all over again =D
This is a good read if you need a sweet and heartwarming teenlit story to, at least, help you gaining your confidence ;).
Happy reading!