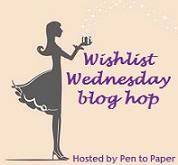 Wishlist Wednesday
is a book blog hop where we will post about one book per week that has been on our wishlist for some time, or just added (it's entirely up to you), that we can't wait to get off the wishlist and onto our wonderful shelves.
This blog meme is hosted by
Pen to Paper
, if you want to join please visit
here
to find more about this meme.
Anna and The French Kiss by Stephanie Perkins
Summary from Goodreads :
Anna is looking forward to her senior year in Atlanta, where she has a great job, a loyal best friend, and a crush on the verge of becoming more. Which is why she is less than thrilled about being shipped off to boarding school in Paris - until she meets Etienne St. Clair: perfect, Parisian (and English and American, which makes for a swoon-worthy accent), and utterly irresistible. The only problem is that he's taken, and Anna might be, too, if anything comes of her almost-relationship back home.

As winter melts into spring, will a year of romantic near - misses end with the French kiss Anna - and readers - have long awaited?
Okay, I can see some of you think "WHAT? YOU HAVEN'T READ IT YET???" and wonder wherd I'm from. The cave actually,haha!
I can't count how many people love and recommend this book. I see them loving it at everyblog I go. I'm a fan of contemporary romance and this one definitely caught my attention. A swoon-worthy boy and the setting, Paris! Wow, I really can't wait to read this book!
Maybe I should buy the US version instead waiting it published here =p.
So what is your Wishlist Wednesday? =)