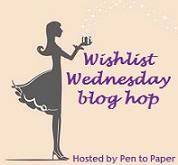 Wishlist Wednesday
is a book blog hop where we will post about one book per week that has been on our wishlist for some time, or just added (it's entirely up to you), that we can't wait to get off the wishlist and onto our wonderful shelves.
This blog meme is hosted by
Pen to Paper
, if you want to join please visit
here
to find more about this meme.
Pretty Crooked by Elisa Ludwig
Summary from Goodreads :
Willa's secret plan seems all too simple: take from the rich kids at Valley Prep and give to the poor ones.

Yet Willa's turn as Robin Hood at her ultra-exclusive high school is anything but. Bilking her "friends"—known to everyone as the Glitterati—without them suspecting a thing is far from easy. Learning how to pick pockets and break into lockers is as difficult as she'd thought it'd be. Delivering care packages to the scholarship girls, who are ostracized just for being from the "wrong" side of town, is way more fun than she'd expected.

The complication Willa didn't expect, though, is Aidan Murphy, Valley Prep's most notorious (and gorgeous) ace-degenerate. His mere existence is distracting Willa from what matters most to her: evening the social playing field between the haves and have-nots. There's no time for crushes and flirting with boys, especially conceited and obnoxious trust-funders like Aidan.

But when the cops start investigating the string of thefts at Valley Prep and the Glitterati begin to seek revenge, could Aidan wind up being the person that Willa trusts most?
First is pretty cover. Yum.
Second is fun and interesting summary, about modern-girl version of Robin Hood. I'm kinda fancy stories about detectives, spies and of course, good and gorgeous thieves =D
Third is like "Woah, the author has the same name as me. It would be fabulous"
LOL, just ignore the third one.
What is your Wishlist Wednesday? =)