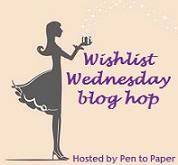 Wishlist Wednesday
is a book blog hop where we will post about one book per week that has been on our wishlist for some time, or just added (it's entirely up to you), that we can't wait to get off the wishlist and onto our wonderful shelves.
This blog meme is hosted by
Pen to Paper
, if you want to join please visit
here
to find more about this meme.
Grave Mercy by Robin LaFevers
Blurb from Goodreads :
Why be the sheep, when you can be the wolf?

Seventeen-year-old Ismae escapes from the brutality of an arranged marriage into the sanctuary of the convent of St. Mortain, where the sisters still serve the gods of old. Here she learns that the god of Death Himself has blessed her with dangerous gifts—and a violent destiny. If she chooses to stay at the convent, she will be trained as an assassin and serve as a handmaiden to Death. To claim her new life, she must destroy the lives of others.

Ismae's most important assignment takes her straight into the high court of Brittany—where she finds herself woefully under prepared—not only for the deadly games of intrigue and treason, but for the impossible choices she must make. For how can she deliver Death's vengeance upon a target who, against her will, has stolen her heart?
Look at the cover, isn't that very pretty? *drolls*
Theme and story are very exciting, different, and sound very cool, about Ismae who is a nun, also an ASSASSIN. WOW. I always appreciate female characters with some kick-ass professions like spies, detectives or even assassins. It set in medieval era which makes it more interesting.
Grave Mercy sounds very promising to give us a cool story, deadly characters and good romance.
It will published around March this year, so I can't wait to see more reviews and maybe I could purchase it once it released.
What is your Wishlist Wednesday this week? You may share your link ;)