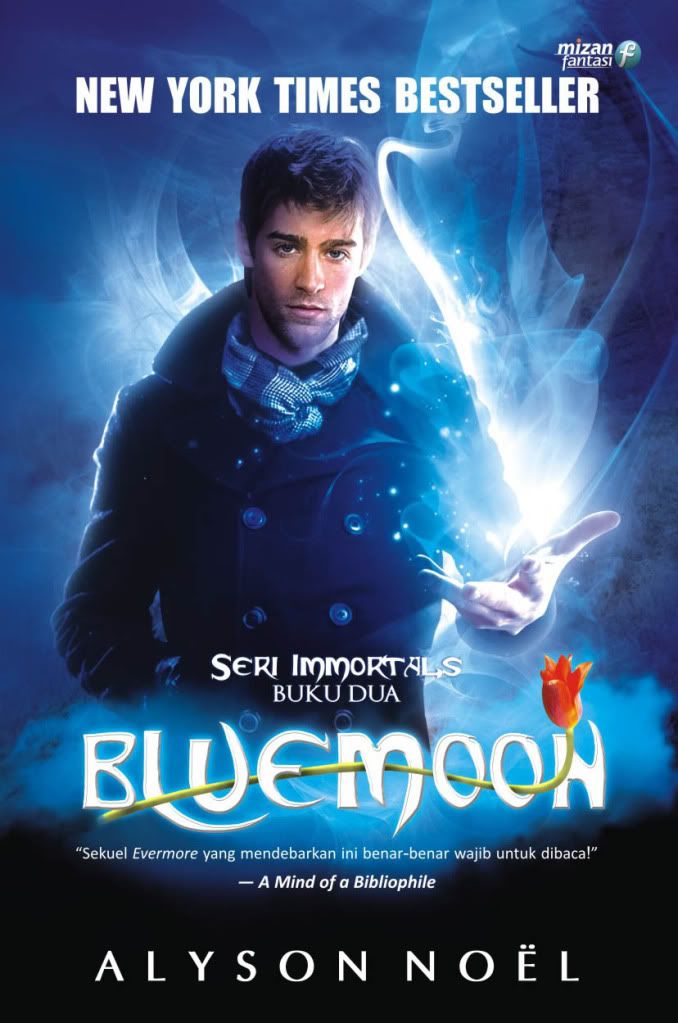 Blue Moon
Author : Alyson Noel
Publisher : Mizan
Source : Bought
Pages : 423
Blurb from Goodreads :
Just as Ever is learning everything she can about her new abilities as an immortal, initiated into the dark, seductive world by her beloved Damen, something terrible is happening to him. As Ever's powers are increasing, Damen's are fading—stricken by a mysterious illness that threatens his memory, his identity, his life.

Desperate to save him, Ever travels to the mystical dimension of Summerland, uncovering not only the secrets of Damen's past—the brutal, tortured history he hoped to keep hidden—but also an ancient text revealing the workings of time. With the approaching blue moon heralding her only window for travel, Ever is forced to decide between turning back the clock and saving her family from the accident that claimed them—or staying in the present and saving Damen, who grows weaker each day...
I was hesitating when decided to read this, because I read not too good reviews and the summary seems depressing. But finally I
forced
myself to read this and I surprised myself because I quite enjoyed it although the story was kinda... one thing, I felt like wanna punched Ever on her face, seriously -_-;
At this second book, Ever realized that Damen and her aren't the only Immortals left. She encountered other Immortal being, very evil Immortal, who does kind of hypnotize entire school and changes people behavior there and makes Damen forgets everything about Ever and himself. Because of that Damen becomes weaker and almost lost his immortal power. To save Damen and find a cure for him, Ever went to Summerland, find another magical creatures and places. Of course her journey is never easy.
This book is really depressive, like nothing single good thing happen on it. I have to admit that Ever is such a strong girl. Really strong and I no doubt admire her. She can cope every obstacle in her life, start with her parents death, her fate to changed into an immortal, being expelled and bullied by her friends, takes a journey by herself to save Damen and again, betrayed by someone who becomes her only one friend at that moment. But woah, how come a person has such many burdens in her life? Even her friends aren't that good too. Damen too isn't a reliable boyfriend and seems very weak here so still, he's not my favorite /:
As I told earlier, I felt like wanna punch her face, because she kept making decisions, very reckless decisions that she regrets it in the end because they make everything worse. Human makes mistakes yes; oh okay, she's not really
a human
; but woah seriously that much? She really pissed me off although I did pity her too.
I thought at first that I couldn't finish this book if the story went crazily depressing. But you know, strangely I can't stop reading this book. I kept flipping the pages because I wanted to know what next, what next, and I sighed a relieved when I met the ending. Alyson Noel did very good job at writing such a depressing yet exciting story. What enthralled me the most is how Noel descibed the magical world named Summerland. I could imagine it very clearly, and felt like I saw it myself through Ever eyes (or it's maybe the translator also did a good job on it =D).
I write like a negative review, but I give high rating for Blue Moon? Yes, this is totally become my guilty pleasure. I can't help but want to know more about what would happen on Ever and Damen *sigh*. I think I would read the rest book after I get Everlasting so I can finish it entirely, ha!