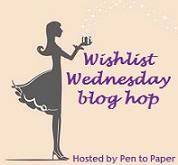 Wishlist Wednesday
is a book blog hop where we will post about one book per week that has been on our wishlist for some time, or just added (it's entirely up to you), that we can't wait to get off the wishlist and onto our wonderful shelves.
This blog meme is hosted by
Pen to Paper
, if you want to join please visit
here
to find more about this meme.
My book wishlist this week :
Anna Dressed In Blood
by Kendare Blake
Blurb from Goodreads :
Just your average boy-meets-girl, girl-kills-people story. . .

Cas Lowood has inherited an unusual vocation: He kills the dead.

So did his father before him, until his gruesome murder by a ghost he sought to kill. Now, armed with his father's mysterious and deadly athame, Cas travels the country with his kitchen-witch mother and their spirit-sniffing cat. Together they follow legends and local lore, trying to keep up with the murderous dead—keeping pesky things like the future and friends at bay.

When they arrive in a new town in search of a ghost the locals call Anna Dressed in Blood, Cas doesn't expect anything outside of the ordinary: move, hunt, kill. What he finds instead is a girl entangled in curses and rage, a ghost like he's never faced before. She still wears the dress she wore on the day of her brutal murder in 1958: once white, but now stained red and dripping blood. Since her death, Anna has killed any and every person who has dared to step into the deserted Victorian she used to call home.

And she, for whatever reason, spares his life.
I interest to this book because I read the review from some blogs, and they said this was ah-mazing! =)
I don't really like something horror because I still need my deep sleep (LOL), but I curious since everybody seem love this book. And it would be interesting to read YA novel at male character perspective.
What is your Wishlist Wednesday?