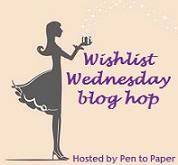 Wishlist Wednesday
is a book blog hop where we will post about one book per week that has been on our wishlist for some time, or just added (it's entirely up to you), that we can't wait to get off the wishlist and onto our wonderful shelves.
This blog meme is hosted by
Pen to Paper
, if you want to join please visit
here
to find more about this meme.
This meme is exactly what I waited for =D
Hm, I know it was already Thursday, but I really want to share a book I can't wait for any longer. For this first entry, my wishlist is the most awaited book this year :
Clockwork Prince by Cassandra Clare



Blurb from Goodreads :
In the magical underworld of Victorian London, Tessa Gray has at last found safety with the Shadowhunters. But that safety proves fleeting when rogue forces in the Clave plot to see her protector, Charlotte, replaced as head of the Institute. If Charlotte loses her position, Tessa will be out on the street and easy prey for the mysterious Magister, who wants to use Tessa's powers for his own dark ends.
With the help of the handsome, self-destructive Will and the fiercely devoted Jem, Tessa discovers that the Magister's war on the Shadowhunters is deeply personal. He blames them for a long-ago tragedy that shattered his life. To unravel the secrets of the past, the trio journeys from mist-shrouded Yorkshire to a manor house that holds untold horrors, from the slums of London to an enchanted ballroom where Tessa discovers that the truth of her parentage is more sinister than she had imagined. When they encounter a clockwork demon bearing a warning for Will, they realize that the Magister himself knows their every move and that one of their own has betrayed them.

Tessa finds her heart drawn more and more to Jem, though her longing for Will, despite his dark moods, continues to unsettle her. But something is changing in Will; the wall he has built around himself is crumbling. Could finding the Magister free Will from his secrets and give Tessa the answers about who she is and what she was born to do?

As their dangerous search for the Magister and the truth leads the friends into peril, Tessa learns that when love and lies are mixed, they can corrupt even the purest heart.
Geez... If only I've collected the English version of Mortal Instruments and Infernal Devices, I'd get this sooner =_=.
I really... REALLY can't wait for this book. Because I already collected the Indonesia version so I have to wait until next year, until the publisher finish the translating process. The trailer, the reviews from blogger I follow or from Goodreads, sigh, make me suffer more. I just can envy most of you guys, who already read and owned this book, hung.... /sulk/
I hope I can get it around January or February. If I can't hold it anymore, maybe I should buy the English version, which means I have to buy the english version of Clockwork Angel and Mortal Instruments series too *dies*
Okay, stop here.
What's your wishlist Wednesday? =)