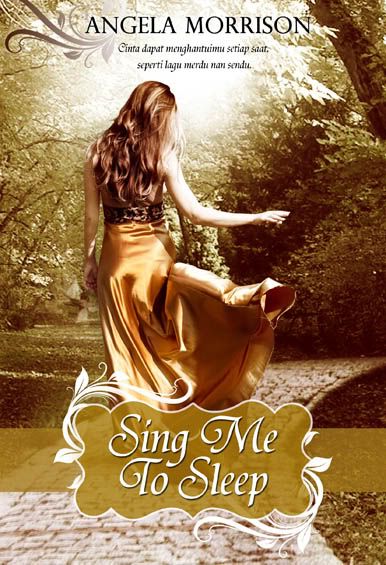 Sing Me To Sleep
Author : Angela Morrison
Publisher : UFUK
Source : Bought
Pages :
Blurb from
Goodreads
:
THE TRANSFORMATION

Beth has always been "The Beast" - that's what everyone at school calls her because of her awkward height, facial scars, and thick glasses. Beth's only friend is geeky, golden-haired Scott. That is, until she's selected to be her choir's soprano soloist, and receives the makeover that will change her life forever.

THE LOVE AFFAIR

When Beth's choir travels to Switzerland, she meets Derek: pale, brooding, totally dreamy. Derek's untethered passion - for music, and for Beth - leaves her breathless. Because in Derek's eyes? She's not The Beast, she's The Beauty.

THE IMPOSSIBLE CHOICE

When Beth comes home, Scott, her best friend in the world, makes a confession that leaves her completely torn. Should she stand by sweet, steady Scott or follow the dangerous, intense new feelings she has for Derek?

THE HEARTBREAK

The closer Beth gets to Derek, the further away he seems. Then Beth discovers that Derek's been hiding a dark secret from her ...one that could shatter everything.
I had very high expectation of this novel. The cover is very gorgeous, blurb caught me, I read good reviews about this, moreover this is inspired from a real story, and I like the story like this. It sounds like "A Walk to Remember" which I love so much, yeah you know how the story end now. Judge what kind of girl I am =p
So when I decided to read it and struggled to finished this...
Ugh.
Another harsh review from me, I just try to be honest. Be prepared =p
Okay, this should be a kind of tear-jerker story and I already prepared myself to sheded some tears but guess what. I didn't. It even didn't move me. I felt nothing, happy nor sad. What the.
The concept is good actually and with some magical writing talent, it can be a beautiful story. But for me, this is not the one. I don't know maybe because all this time I read kick-ass and strong mind main girls characters and adore them, or because I'm too old for high schooler drama. This book is absolutely not for me.
The first problem is the main characters. I don't like Beth and Derek, but I really really love Scott. I thhnk he's the only likeable character in this book.
Beth is maybe a real character for a girl in her age with all condition and obstacles she has, but she is shallow and pathetic. Almost all pages of this book is about Beth whinning. She whines all the time about how ugly she is, how unattractive she is, and reading all of this was really tiring. And then she gets a make-over because she has to shows herself in front of people as a main vocalist at the choir she joins and then because of that she is liked by everyone. I'm glad it's only lasics to get rid her scars from her face and does some make-ups, if she ran plastic surgery, I'll really hate this book. I can't understand the purposes of Beth's bad condition and her transformation. It might change her life, but what for? Be more likeable with more attractive outer appearance? Got a boyfriend she dream of because her new features? It's not a mistake to be pretty by some efforts, it's even a must and a nature for all girls. But somehow I feel something is wrong if we just depend on our outer appearance to be loved.
And more bothering is her deep and blind love for Derek. She is helplessly...stupidly falls in love with him. She can't live without him, can't stay depart from him after she knows Derek for just a short time, not even a month. Geez seriously such a torture to read her whinning about her love life. I can't stand a girl who helplessly begs for love, so yeah... I simply can't stand it.
Next is Derek. Beside his good looking, a rebel boy, and his high passion towards music and choir despite of his terminal illness, I didn't know him. His portion at this story can't describe him very well and from everthing he does in this book, I barely can sympathize him, even I judge him as a selfish boy who does everything to fullfill his last wish, like uses a naive girl who coincidentally is a great singer and doesn't know anything about love before. Derek barely knows about Beth but he abruptly says love to her after he heard her voice, like interests to her just because of her voice and her 'new look'. Just imagine if Beth didn't change, will Derek still like her despite of her voice? Maybe yes, but he won't love her. Because even when they are in relationship, I didn't feel his sincere love.
At the contrary, I really adore Scott, Beth's only best friend. He loves Beth since she was a kid, when she was still an ugly, and still love her while Beth blindly loves Derek. He loves Beth whatever and however her condition is. I sympathize him a lot, although at the last Beth realizes at the bottom of her heart she loves Scott and she's nothing for Derek except her talent, and back to him after Derek's death. He's obviously the second. Hmph.
Many reviewers compare her with Bella from Twilight. I think I must agree at the part of instant love, like love at the first sight. But for the rest, Bella and Edward are the way better than Beth and Derek. At least for me =p
So... I won't recommend this book to especially for those who loves strong-willed and positive girl main characters, but if you still curious, just read it. Maybe you have a better opinion about this book than me =)