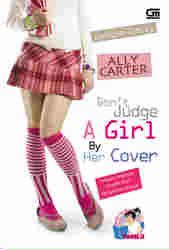 Don't Judge A Girl By Her Cover (Gallagher Girls #3)
Author : Ally Carter
Publisher : Gramedia Pustaka Utama
Source : Bought
Pages : 285
Blurb :
When Cammie Morgan visits her roommate Macey in Boston, she thinks she's in for an exciting end to her summer. After all, she's there to watch Macey's father accept the nomination for vice president. But when you go to the world's best school (for spies), "exciting" and "deadly" are never far apart. Soon the girls find themselves trapped in a kidnappers' plot, with only their espionage skills to save them.

As her junior year begins, Cammie can't shake the memory of what happened in Boston, and even the Gallagher Academy for Exceptional Young Women doesn't feel like the safe haven it once did. Shocking secrets and old flames seem to lurk around every one of the mansion's corners as Cammie and her friends struggle to answer the questions, Who is after Macey? And how can the Gallagher Girls keep her safe?

Soon Cammie is joining Bex and Liz as Macey's private security team on the campaign trail. The girls must use their spy training at every turn as the stakes are raised, and Cammie gets closer and closer to the shocking truth…


2 previous books,
I'd Tell You I Love You But Then I'd Have to Kill You
and
Cross My Heart and Hope to Spy
(wew such a long titles) are smart and fun reading and I quite enjoyed them, but still, I felt something lack at those 2 books. Maybe they don't have real action scenes and the characters don't face the real villains and more focus on Cammie love-interest and spy-girls' education development through school mission, and those things made me put down this series for a while. But then finally I read 'Don't Judge A Girl By Her Cover' and yay! I simply can't put it down and read it just in 2 days (well, since I have to go to work, it's faster than usual ;p)
The story grows more thrilling and captivate me till last page. Cammie and her friends face a real kidnapping scene from mysterious people who seems targeting Macey and her family who soon will become an important family in US. On their mission to secure Macey at her dad's campaign, Cammie coincidentally meets Zach, or he actually stalks her with certain reasons he won't tell and like usual, he stays mysterious till the end.
This book doesn't give us many romantic scenes, but I really enjoy how Zach keeps making Cammie curious about him and how Zach secretly protects Cammie, even shows his jealousy while Cam unexpectedly meets Josh and follows him, like called him 'Jimmy'. Very cute =D. And romance life comes to Macey life too, with President candidate's son. I curious about their further relationship later on the next books.
If you have a same thought like me, about the previous 2 books that move slowly and a bit boring, don't stop and read this one. And for those who haven't read this series yet and you like smart & fun read, grab
I'd Tell You I Love You But Then I'd Have to Kill You
fast. You'll love it.
Gonna write a review for next book