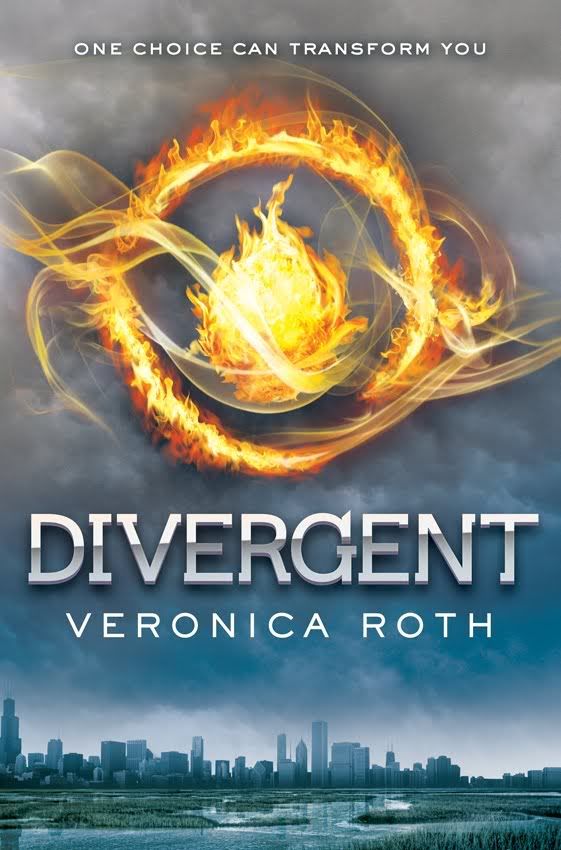 Divergent (Divergent #1)
Author : Veronica Roth
Publisher : Katherine Tegen Books
Source : Bought
Pages : 489
Blurb from Goodreads :
Beatrice "Tris" Prior has reached the fateful age of sixteen, the stage at which teenagers in Veronica Roth's dystopian Chicago must select which of five factions to join for life. Each faction represents a virtue: Candor, Abnegation, Dauntless, Amity, and Erudite. To the surprise of herself and her selfless Abnegation family, she chooses Dauntless, the path of courage. Her choice exposes her to the demanding, violent initiation rites of this group, but it also threatens to expose a personal secret that could place her in mortal danger. Veronica Roth's young adult Divergent trilogy launches with a captivating adventure about love and loyalty playing out under most extreme circumstances.
No doubt, Divergent is the best book this year.
This book is meaningful for me. Before, I never bought nor read any English version of novels, I have been always buying local translation version. Although maybe I passively and fail-ly fluent in English, I had no will to read something in English. And then I joined book blogger world and found this book blogger that inspired me first to made one
Down To The Rabbit Hole
(she's now my permanent book reference. thank you so much! =D). I tracked her book review list and found
Divergent
with 5 bunnies (it's her rating system, cute isn't it =D). She impressively review and high recommend it, then I who never heard about 'Dystopia' word before thought "Wow! I should find this book!". But how to got it, I didn't know. One day I visited a bookstore that sells imported books, and EUREKA! magically I FOUND THIS BOOK! Yippi! My first English version book ever =D Okay, I stop my useless rambling here.
When I read it... wow. WOW.
I instantly felt in love with the idea of this book, the world Roth made, the characters she built, her writing style, everything! Just.... wow.
This book is intense, suspense, ironic, emotional stirring, cruel; I mean it, VERY CRUEL! argh!; but also romantic. This book will grip you till the end. I found my heart throbbed at some scenes, then sad, then happy and rooting for the characters, then angry, then surprised, then happy again, then like 'WHAT THE HEEECK! NO WAAAY!' lol seriously I have to say, after finished this, I was like emotionally tiring, but fully satisfied at the same time =D.
The world Roth makes is Dystopian Chicago that divided into 5 faction : Dauntless (Bravery), Erudite (Knowledge), Amity (Peace), Candor (Honesty) and Abnegation (selfless) which each faction requires its people to act, talk, even use certain attributes that show their faction. I found this idea was interesting, people be required to have only one prominent character, and if they broke it, they would be an outcast, or in this world, be factionless. Wow, how hard it is. If I live at that world, I'm sure sooner or later I'll be factionless =p When teenagers reach their 16, they have to choose one of five factions through some tests to help them decide it. And from that test, Tris discovers that she's a Divergent, she has more than 1 faction result, which means she's terribly in danger.
Tris is one of heroine with very real character. I felt a strong connection with her personality and emotion, so that's why I love Tris so much =). She's a good girl, but she's also
not that
good either. Like normal 16 years old girl she flaws, the problem is her faction doesn't allow her to show other than selfless. She was born and lived her 15 years as Abnegation which required her to act selfless all the time. And she tries really hard to act selfless and no, not really happy with that. I adored her courage to choose her true self and leaves her Abnegation family, and her decision to be the only one Abnegation to enters the most
brutal
and explosive faction, Dauntless, since she's from very stable, flat and ordinary faction. After experience Dauntless' challenging and dangerous initiation processes, her personalities distinctly develop to become smarter, braver, more daring and rebel than before, that's to prepare her to face something very terrible happen later she never imagined.
What more interesting is the love story. It's quite unique. I already suspected Four as Tris love interest (yea beside some reviews told it) but there's no single love scene at more than half book. I really really love Four, he's smart and awesome. Four is Dauntless initiates trainer, and from how he acts, he's very firm, strong, unshakable and rude, even to Tris. He treats Tris the same as the other although secretly he concerns and encourage Tris more than other. Although he's has stern and cool appearance, then I found he's also a ordinary boy who hurt and has weaknesses, which makes him human. Tris and Four is a perfect and lethal combination, both of them are deadly smart, brave, and
selfless
. Really adore this couple =D
Overall, this book is definitely remarkable and also, inspirational :). It stays in your head for quite a moment. Personally, for me Divergent is not just a fiction, it's more than that. This book even can make you stronger, and looking on Tris and Four make me want to be a better person. Really love this book. I already feel like want to read it again from the start :D
Now I desperately can't wait for
Insurgent
, the next sequel of this book. I want to know more what will happen on this book, what happen on Tris and Four, and some of their Dauntless friends like Christina, Uriah, even... Will ;A; *heartbroken*
If you see this book at bookstore, grab it fast! =D
VERY RECOMMENDED!
P.S : don't mean to bragging,but I think if I live at this world, maybe I'll end as Divergent too :D
Ssstt...! Don't tell anyone! xD