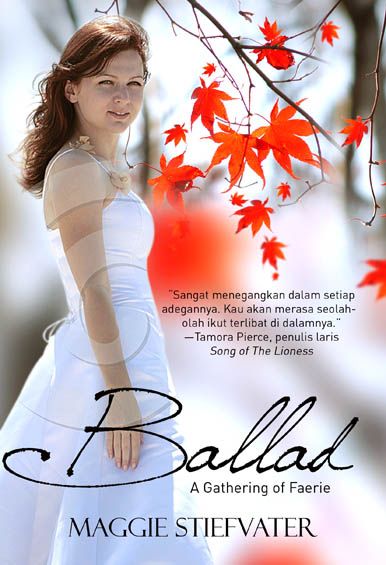 Ballad, A Gathering of Faeries
Author : Maggie Stiefvater
Publisher : UFUK
Pages :
Source : Bought
Blurb :
In this mesmerizing sequel to Lament: The Faerie Queen's Deception, music prodigy James Morgan and his best friend, Deirdre, join a private conservatory for musicians. James' musical talent attracts Nuala, a soul-snatching faerie muse who fosters and feeds on the creative energies of exceptional humans until they die. Composing beautiful music together unexpectedly leads to mutual admiration and love. Haunted by fiery visions of death, James realizes that Deirdre and Nuala are being hunted by the Fey and plunges into a soul-scorching battle with the Queen of the Fey to save their lives.
Book that introduced me to Maggie Stiefvater is
Shiver
, and instantly I added her as my favorite author because her flowing, beautiful, and poetic writing style. So when I found
Lament
which has unattractive cover without second thought I bought it and I awed with her deep knowledge about Faery world and terms, and of course with the characters she built.
Ballad
, like
Lament
, is beautiful, poetic and
wicked
. Don't ever imagine faeries here are like cute Tinker Bell with her sparkle dust. They're mostly bloody vicious and some have awful appearance. They attract human to be their prey, and kill them with no hesitation. But still... Stiefvater draws their wicked world beautifully.
This story is told alternately from James and Nuala POV. We know more about James, a prodigy bag pipe player and Deirdre's best friend who has been falling in love with her for his entire life. Sarcastic male character always win my heart, so I really enjoy his chapters, his witty voices and never-ending sarcasm cracks me alot. But behind all of James's follish acts, he hurts too much. I don't really like Deirdre here because of her selfishness. She seems using James to covered up her own heartache without concerns his feeling.
And then there's Nuala, a fierce faery girl who her first intention is making James as her prey. The relationship between James and Nuala grows in unique way, at one time they hate each other, and slowly but sure they realized that they need each other.
Another unique feature is there are Deirdre's unsent message to James inserted between chapters. I think it's the way to explain how's Deirdre conditions since Ballad concentrates more to James and Nuala. The messages are also heartbreaking... well I forgave Deirdre because of that. A bit.
Overall, I think
Ballad
is better and more enjoyable than Lament for me. The characters are deeper and stonger (James and Nuala), the story is unpredictable till the end with beautiful and heartbreaking story.
Seriously, how many I said 'beautiful' and 'heartbreaking'???
And the cover comparisson :
I love both version. The english version is simple but describe the story well, related to Nuala. With black background, the burn maple leave looks stand out more. Indonesia version is pretty, but the girl on the cover doesn't match with Nuala appearance (well I roughly assumed the girl at the cover is Nuala =p) which is platina blonde and un-human face. And it doesn't go together with old Lament cover I owned =x But well, it's not a big deal though.
Stiefvater fans have to read this. The same beautiful as
Shiver
, with different emotion. And for those haven't read any of her novels... hm... maybe you have to read
Lament
first before this one =). 4 stars for this novel