In My Mailbox is a bookish blog meme hosted by Kristi of
The Story Siren
. You can show some books you got over the week which you bought, borrowed or given to you.
_________________________________________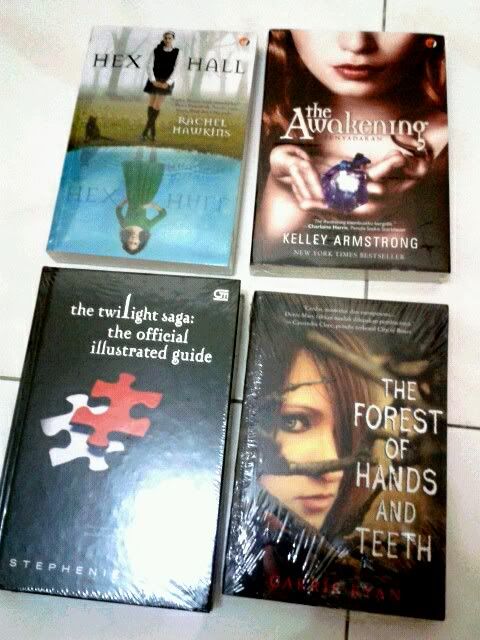 Hex Hall
by
Rachel Hawkins
Bought because many good reviews about
Hex Hall
and of course, pretty cover. Yum!
The Awakening
by
Kelley Armstrong
Derek, I hope you still save... Can't wait to read this one!
The Twilight Saga: The Official Illustrated Guide
by
Stephenie Meyer
I love Twilight saga (wow, I hear 'boooo' there. Don't hate please ;)) so I think I have to own this. Too bad It's so expensive, but it worth because of better paper, thickness, hardcover, and full color pages. Can't wait to read this =D
The Forest of Hands and Teeth
by
Carrie Ryan
Published long time ago and I saw the only copy of this at bookstore, I snagged it.
I dunno when will get the next books because I can't track the publisher, just wish they would release some new book to convince us they're still alive /rawr/
So what books you've got?
Share them so I can envy you ;p