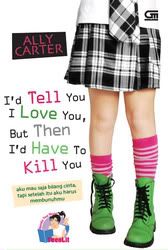 I'd Tell You I Love You But Then I'd Hve To Kill You (Gallagher Girls #1)
Author : Ally Carter
Publisher : Gramedia Pustaka Utama (Indonesia)
Pages : 320
Source : Bought
Blurb :
Cammie Morgan is a student at the Gallagher Academy for Exceptional Young Women, a fairly typical all-girls school—that is, if every school taught advanced martial arts in PE and the latest in chemical warfare in science, and students received extra credit for breaking CIA codes in computer class. The Gallagher Academy might claim to be a school for geniuses but it's really a school for spies.

Even though Cammie is fluent in fourteen languages and capable of killing a man in seven different ways, she has no idea what to do when she meets an ordinary boy who thinks she's an ordinary girl. Sure, she can tap his phone, hack into his computer, or track him through town with the skill of a real "pavement artist"—but can she maneuver a relationship with someone who can never know the truth about her?

Cammie Morgan may be an elite spy-in-training, but in her sophomore year, she's on her most dangerous mission—falling in love
I have to say, this is COOL story! =D.
When I was a little girl, I ever had a dream to be a spy or secret agent, because it sounded very cool *face palm*. It's because I was a fan of 'Mission Impossible' old series (but i didn't watch Tom Cruise's version. I'm not his fan btw =p), and also unforgettable hot cassanova agent; 007 Bond, James Bond, so I enjoy spionage story so much ;D
I read this series a bit late, I didn't snatched it right away when it published here although the cover and the story quite tempting (pretty legs of spy-girl, whooohoo). But after read lots of book recommendation, I decided to read and yeah, I like it!
This first book tells more about how Cammie and her friends fullfilled their 'dangerous' school mission from a new teacher, Mr. Salomon who is a professional spy, dangerously hot and mysterious. And also, their mission to found out about Josh, a townie boy who could see Cammie when she became unseen among the crowds because she run her mission. Was Josh a 'honeypot' or just a commoner. And of course, a little of romance between Cammie and Josh.
There is no real villains here so the story lacks of suspense feeling. But still, it's enjoyable.
One thing makes me more enjoy this story is because almost all (or even
all
) characters are smart, even Macey who acts a rich biatch at the first time (Bex and Macey are my favorite characters).
The story is told from Cammie POV, and from that you know her interaction with others. I love Cammie's close relation to her mom and her 2 then 3 best-friends. I like her clueless, curiousity and confusion about boys, especially about Josh (Macey had important rules here) ; and 'ordinary lives' that she never had.
Josh is cute, I even like him more than Mr. Salomon. He sincerely liked Cammie, just too bad he liked the
wrong
girl who had to kept secrets from him. And what makes me adore him more, he still tried to safe Cammie even after everything was revealed. Just well... too bad....
This books is mixture of spionage, myteries, school or personal mission (note : Josh), girls friendship, and first love, and definitely recommended if you like strong, smart,
deadly
girls characters, mysteries and spionage world ;)
I give this book 3 stars, because although I loved the idea of the story, it didn't grip me, and I still could put it down a while =p
This is the cover of English version :
I like both of them. They just show half part of girl's body. English version shows Cammie's figure (perhaps) and Indonesia version specifically shows legs of Gallagher Girls, perhaps Cammie, Bex, Liz and Macey.