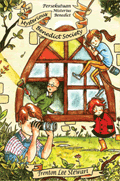 The Mysterious Benedict Society #1
(Indonesia ver.)
Author : Trenton Lee Stewart
Publisher : Matahati Publishing (Indonesia)
Page : 576
Source : Bought
Summary from Barnes & Noble :

Dozens of children respond to this peculiar ad in the newspaper and are then put through a series of mind-bending tests, which readers take along with them. Only four children-two boys and two girls-succeed. Their challenge: to go on a secret mission that only the most intelligent and inventive children could complete. To accomplish it they will have to go undercover at the Learning Institute for the Very Enlightened, where the only rule is that there are no rules. But what they'll find in the hidden underground tunnels of the school is more than your average school supplies. So, if you're gifted, creative, or happen to know Morse Code, they could probably use your help.
REVIEW
:
(May contain some spoiler, I unconciously wrote it down xD)
I was tempted to bought this after i saw the English copy at my friends's book shelf, and the reviews are very good at everywhere i visited, so yes, i got it in my hand and after several months stayed dusty at my book piles, i grabbed and finished this
I always enjoy any kind of detective or mystery books since i was a kid (i read Alfred Hitchcock's and some of Agatha Christie's), and yesh, i totally love this one too!
The story is about 4 kids, Reynard 'Reynie' Muldoon, an orphan, mundane but very smart boy; George 'Sticky' Washington, a bald, nervous boy with photographic memory; Kate Wetherall, a physically strong and acrobatic girl, she brings a pile full with equipments (i don't understand why she didn't bring a bag maybe, instead a pile.LOL), and Constance Contraire; a very very very stubborn, cranky, always hungry and sleepy, seems hating anything but smart little girl, who are recruited by Mr. Benedict, a good and mysterious genius man, after they finished some tricky and challenging tests with their own unique abilities, and yet find a name for themselves "Mysterious Benedict Society".
These gifted yet unique kids get a mission, to infiltrate the isolated school name "Learning Institute for the Very Enlighten" or LIVE, a place that mysteriously run by Mr. Curtain. They believe that Mr Curtain and his fellows have an evil plan to take over the world with spreading some hidden-hypnotizing-phrases behind any broadcasts on TV or radio, and more wicked, he used orphanage or kidnapped children to make his plan success.
The story is very brilliant. It is light-reading, but also kindly force you to think too. Like other book for kids or teenage, this book teaches a lot of good things from the characters and the story itself.
The pace maybe a bit slow, but i think it help us to understand the characters more. I enjoyed reading every pages and didn't feel it bored at all. I imagined how if a kid's voice keeps saying a same phrase inside my head, wow seriously it's creepy like horror movie =x
The main characters are good and lovable, and the bad ones.... they're very bad that you want to punch them on face although there's a character you would like because his stupidity helps kids a lot =D.
Each of them has different abilities but they complete each other. Well maybe Constance seems very bothering here (you'll know why she act very irritating-childish at the end of story) and like have nothing special to do, but actually she has a big role to make this mission, bigger than her size.
They are trusted to solve a big and wicked mission that claimed impossible for adults. And behind all super brain and abilities people, there lay some weakness too that make them a human, or a kid. Raynie, Sticky, Kate and Constance seems very accustomed with their loneliness because of parent loss, abandoned, special abilities or being different. From all problems they faced, they learn that they need others not only their own power or brain. They also learn about love, loyalty and friendship between them. I was glad this kids got their happy life at the end of story.
i already purchased the 2nd and 3rd books, gonna read them ASAP.
I give this 5 star rating! (gonna add some fancy rating symbol soon =p)
If you like detective story, about smart and genius people, you have to read this
And now, we compare the cover, since Indonesia version has different cover :
All of cover versions are good.
Indonesia version is cute, US version is gorgeous, UK version gives more mysterious feeling
For me, i think i like the UK version. Black color is cooler =D